| | |
| --- | --- |
| How to Find Help: Message Boards | |
The Single Family FHA Business Areas message board functionality for Single Family Origination, Single Family Servicing, Property Improvement/Manufactured Housing, Lender Electronic Assessment Portal (LEAP), and Neighborhood Watch is illustrated in Figures 1 and 2 following.
Figure 1 illustrates a portion of the Single Family FHA Business Areas page showing the message area, the location of the most recent message date that appears to the right of the system name for each system having a message board, and the "New" icon that indicates a recent posting.
Figure 2 illustrates a sample message; in the illustration, the drop-down list used to access to prior messages is indicated by an arrow.
Figure 1: Single Family FHA Business Areas Message Boards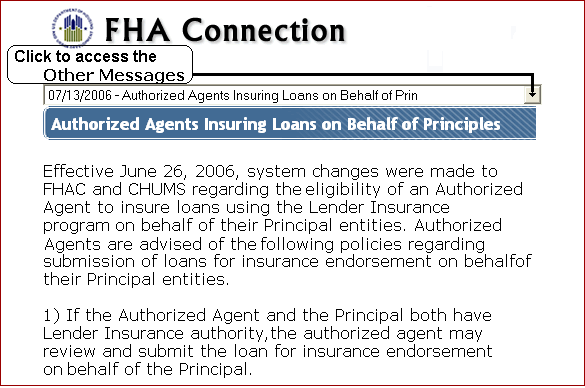 Figure 2: Sample message item